Done.
19 June 10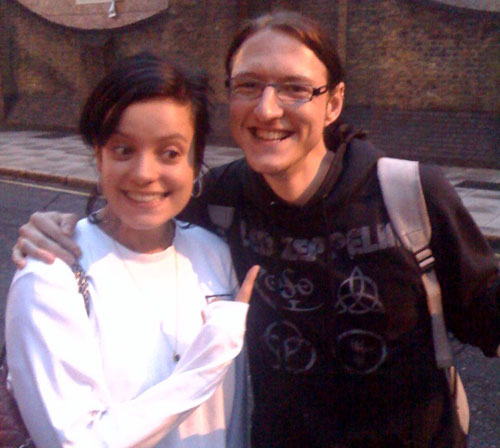 14 June 10
Finally, the credits section has been updated. If you feel your name should be there but you can't find it, let me know and I will see what I can do :)
10 June 10
Been meaning to post this for a while. There is this guy named Matt Visser who wrote a blog about my quest. I think he is awesome for doing this, and his blog is really cool, so go read about how I am "an actually human being" hahaha.
01 June 10
Fuck, sorry about the severe lack of updates lately. But after the blood we shed after making The Movie, a break was well deserved. Besides, today is Art-Pulpitations 1st birthday, so I've been pretty swamped trying to prep all that up.

Only 2 things will be happening for the rest of 2010 on the Lily front. Which are as follows:

(1) Episode 2. It has begun, but I am taking it slow. I want this one to be somewhat epic. While Episode 1 was based around South Park and A Perfect Hair Forever, this one will be more based around Studio Ghibli's works. So yeah, a little bit of a bigger project.

(2) Promotion Promotion Promotion. If this doesn't reach more people, all the cartoons and the movies in the world won't do it. Help if want me to love you. And I will love you, believe me, I will.
14 May 10

Massive thank-you to EVERYONE involved, you are credited in the clip.
Maximum respect goes to Kris Cook, for whom this would be non-existent.
04 May 10
On my quest, I have met many awesome Lily fans, one of the main ones being Julie Moody. For Lily Allen's birthday she made an YouTube message for her. I am in it along with a bunch of Lily's biggest fans - take a look, it's sweet!

Lily saw it herself and said "thanks to all my lovely fans for my birthday present. so sweet!" which is grand.

Along those lines, HelpJaredWoodsMeetLilyAllen.com The Movie will be launched NEXT FRIDAY. We have worked very hard on it, I hope you enjoy!

As for Episode 2.... not much. Character design is well underway, but besides the voices, there hasn't been too much else to talk about. It's a good thing, taking our time to make it LOUD.
27 April 10
The Fourteenth Of May Two Thousand And Ten
13 April 10
Sometimes as an artist you have to make a choice. Either you rush your work to meet a deadline, or you give yourself a little breathing room to make sure you release a quality product. And when I am the one setting the deadlines, I always go for the latter.

This means that the documentary (which is looking great btw) will only be launched around the end of April. Episode 2 of the cartoon will be launched in May sometime. I am sorry without being sincerely sorry at all.

Updates on this site will be scarce, but follow me on Twitter (if you dare) and I will post anything major over there.
03 April 10
Hahaha, so my Dad heard about the website, and against my wishes, he Googled me and watched the cartoon. For those of you who don't know, my "Dad" in the cartoon is actually the face of my real Dad.

I don't think he was too impressed, so I feel it is important for me to say that my Dad has never hit me, and he doesn't swear much either. However, he has referred to Facebook as "MyFace" before, so that much is true. Sorry daddy! I love you!!

The documentary is still being worked on, looking to launch it mid-April, which will shortly be followed by Episode 2. The script rewrite is 90% done, and in my humble opinion, is twice as good as the last one.
30 March 10
The shooting for the documentary went well, looking forward to getting that all cut and up and running. Hopefully this won't be too long.

The next step in my mind is to get this in the media, which I will be working on within the next few days.

Finally, after a discussion with my partner in crime Ammr, I have decided that the script for Episode 2 is shit, and needs a rewrite. I will keep you posted.
26 March 10
Just a few things:

I have updated the FAQs with a few of the questions I've been recieving lately. Go read and get educated.

I got an email from someone named Luzia who pointed out that I spelt "Allen" with one "L" in the start of the cartoon. EPIC FAIL, I am so sorry, really sucks, too late now tho :/ Thanks for pointing that out Luzia :)

People who are using the guestbook: if you don't want your email address to be included, simply don't type it in.

This weekend, me and my mates will be filming a documentary so you kiddies can see a little bit more about me and then you can stop emailing me telling me that you think I am insane.

The script for Episode 2 is written, production will start next week.

Finally, I am so sorry (without being sorry at all) that my Tweets are scaring some of you. I design them to offend you, so basically: go fuck yourself if you don't like them; have no sense of humour; or are taking this thing too seriously. Stop following me :) Seriously though, I do love you all, thanks for giving me the attention I have craved since I was 5 years old.

(that was a joke, don't email me about that either please).
23 March 10
Obviously due to all the recent excitement, some parts of the website were out of date, so I went through it all and made a few changes.

I just want to quickly say thanks so much to all the countless people who have been so awesome and supportive, I am sorry I can't reply to everyone but a funny thing happens when a Number 1 Pop Star tweets about you. You get a lot of mail. One word of warning tho: if you do decide to follow me on Twitter, don't expect me to talk about Lily Allen all day. My Tweets get hectic sometimes, so if you can't handle it: go away.

Also (and I'm sorry if this makes me sound like a cunt) please don't add me on facebook! That's my private life and I feel bad everytime I hit Reject. Thanks! :)
22 March 10
EPIC.

So I was going about my day as per usual, and casually checked my Inbox as I do. But something was different this time, instead of having no mail whatsoever, there were like 50 new people following me on Twitter. "Hmmm, this is quite peculiar" I thought to myself, and checked my Twitter to see what all the fuss was about.

It was surreal, I had been bombarded with Tweets saying "She saw it! She saw it!" and I was like "Who saw what?". And that's when I noticed this: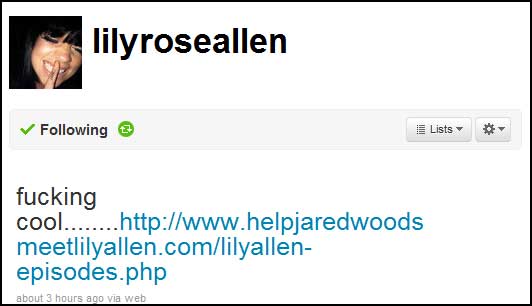 I'll be honest, I pretty much fell off my chair. It's one thing that Lily had actually seen the website, but the fact that she thought it was "fucking cool" was a relief, because that could've gone either way.

People keep asking me "So what now?" Jesus, I have no idea. I guess I just have to wait? She has seen the website, so it's up to her if she decides to meet me or not. But how cool is all of this, huh?? :)

There is a lesson in here somewhere. I had a really crazy funny idea, and people told me it would never work. I could have listened, but I didn't, and now my website is on Lily's Twitter. I'll tell you one thing, as far as Mondays go: this one was YEEEEAHHHHH!!!

And once again, thanks SO MUCH to everyone who helped, I will be updating the credits before the end of today, so hopefully your name will be there if you deserve it!!
17 March 10
4 months after the original release, here it is: THE BRAND NEW FUCKING LILY ALLEN WEBSITE.

I put many many many hours of days of months of work into this, and I personally feel it has really paid off. Besides all the usual stuff, you will find it is neater, cleaner and easier to use. Not to mention that the whole fucking thing is an ONLINE CARTOON SHOW now.

I really hope you enjoy your stay as much as I have enjoyed making this website. Now, back to business... Lily? Lily?? Where are you Lily???
16 February 10
Stopped updating for a while, whilst I worked on the new site.
02 February 10
Lily started using Twitter again.
28 January 10
Decided here that things had gone on for long enough without any action, and started working on this new site.
22 January 10
Added images to the The Download section.
21 January 10
Launched the Myspace.
13 January 10
Had the idea to turn the whole project into a cartoon, but told no one. Nothing was the same again.
09 January 10
Traded links with Anime and Manga - South Africa and Decriminalize Cannabis in South Africa.
08 January 10
Traded links with Against Light Photography.
06 January 10
Added a Guestbook.
04 January 10
Posted a ton of shit around Facebook
21 December 09
Facebook group hits 700.
18 December 09
Went to Lily's show the night before. Tried really hard to get her attention, failed miserably. Got some rad photos thought, check The Download section.
15 December 09
Sent Press Release to MTV-UK, The Mirror, The Daily Star, Vogue, OSOYOU, Undercover, In Style UK, TVNZ, Banmoco & Marie Clare.
14 December 09
Facebook group hits 600.
Bought a copy of My Date With Drew, learned nothing, but got very encouraged.
Sent Press Release to Giant Digital, Contact Music, The Sun, Perez Hilton, Angry Ape, The Independent, The Superficial, BBC, OK Mag, Yahoo and Pop Eater.
More credits added.
09 December 09
Sent Press Release to Dailymail, Mail on Sunday, The Metro, This is London, London Net and Entertainment News.
More credits added.
08 December 09
Press Release Download becomes availible in the Download section. (Thanks Jax!).
More credits added.
07 December 09
Facebook group hits 500.
More credits added.
04 December 09
More credits added.
03 December 09
Facebook group hits 400.
I bought a facebook ad.
More credits added.
02 December 09
Danny MidgetNinja submitted his own stickers, totally fucking awesome, check them at the Download section.
More credits added.
01 December 09
Printable stickers added to the Downloads Section.
27 November 09
More credits added.

26 November 09
More credits added.

24 November 09
23 November 09
Facebook group hits 200 members.
Emailed Perez Hilton and The Sun
Left a post on her LastFM.

19 November 09
Facebook group hits 166 members.
Emailed a fake Lily by mistake.
Posted links around facebook.
Emailed Zane Lowe, Rory McConnell and Vic Galloway from BBC Radio 1.
Emailed The Superficial.
Joined official message board, posted a thread. Sent her a pvt message there too.
Got lots of support from friends, all with many ideas.

17 November 09
Site launced.